The Evolution of Calpurnia Tate by Jacqueline Kelly
BIBLIOGRAPHY
Kelly, Jacqueline. 2009. THE EVOLUTION OF CALPURNIA TATE. New York: Henry Holt and Company. ISBN: 9780805088410
PLOT SUMMARY
It's 1899, the hottest summer 11 year old Calpurnia Virginia Tate, Callie to her family, has ever experienced. Life in the small town of Fentress, Texas seems to crawl to a standstill. But then two life changing events happen. First, Callie begins to observe the natural world around her, the habits and behaviors of the animals on her family's pecan farm, which leads her to ask her formidable naturalist Granddaddy for help. Second, her mother decides it's time to teach Callie, the only girl with six rambunctious brothers, the skills necessary to become a proper lady and take her place in society. Callie struggles through her cooking lessons, but thrives under the guidance of her Granddaddy and the exploratory walks they take on the farm. Granddaddy also introduces her to Darwin's book, THE ORIGIN OF SPECIES, from which Callie learns about the theory of evolution, an idea that is not embraced in turn of the century Texas. As Callie learns about the natural world around her, her understanding of the people and events around her deepens as well.
CRITICAL ANALYSIS
The narrative is told in first-person from Callie's humorous and insightful perspective. There is an emphasis on family dynamics; Callie is the only girl out of seven children. Kelly has deftly created unique personalities for each of Callie's brothers, from Travis, friend to all animals, to five year old J. B., who eagerly crawls into Callie's lap for a hug. Although her boisterious brothers drive her crazy, it is obvious Callie loves them as much as they love her. This is most evident in Callie's compassion towards her brother Travis, who must raise the Thanksgiving turkeys but cannot bear the thought of killing and eating them.
Although Kelly does not include any resources or further reading, it is evident that the book is well researched. Callie's world, turn of the century, post Civil War Texas, is depicted in great detail. Not only are there vivid descriptions of the Tate house and the town itself, but the natural world is brought to life through Callie's keen powers of observation. All the characters in the book are greatly affected by events of the time, such as the telephone and automobile, and each reacts in a different way. Callie and her Granddaddy are fascinated by the progress of the world, while Callie's mother and father cling to the traditions that keep their household in order.
The evolution in the title not only refers to Callie's discovery of the wonders of the natural world around her, but also the evolution of her understanding of the people and events in her world. Callie is forced to learn the cooking and other skills required of a woman of the time and she must adapt to a changing family dynamic as her eldest brother, Harry, begins to court girls. She develops a strong relationship with her grandfather, who teaches her about scientific methods, but this relationship also changes the interactions of her other family members. Each chapter is introduced with a quote from THE ORIGIN OF SPECIES by Charles Darwin that underscores the ideas with whichCallie must come to terms.
Another major theme in this book is Callie's fervent desire to catapult into the new century, while also wanting to make her conventional and traditional family proud of her. Although Kelly has created a smart, independent protagonist she does not shy away from accurately depicting the expectations of girls in 1899. By the end of the book, Callie realizes that she cannot escape the societal and cultural norms of her world. However, she sees hope in the New Year's Day snowfall, "The world hadn't ended. It had just begun."
Like many great books, THE EVOLUTION OF CALPURNIA TATE includes elements that some readers or parents may find objectionable. First, there is Darwin's theory of evolution and second, not only does Callie's mother drink alcohol, but Granddaddy is working on a formula to make pecans into liquor. Each of these elements are an integral part of the story and are approached from a scientific standpoint, however librarians and educators should be prepared to handle potential questions or challenges.
AWARDS/REVIEW EXCERPT(S)
School Library Journal Best Books of the Year
Judy Lopez Memorial Award Winner
IRA Children's and Young Adult's Book Award Winner Intermediate-Fiction
Newbery Medal Honor Book
Josette Frank Award Winner
YALSA Best Books for Young Adults
ASLC ALA Notable Children's Books
Review from VOICE OF YOUTH ADVOCATES: "The culture and social life of the early twentieth century is reflected in the lives of Calpurnia and her family and community. What is central always to this novel, though, is the close relationship shared by Calpurnia and her grandfather, who are brought together through their interest in observing nature."
Starred review from BOOKLIST: "By the end, she [Calpurnia] is equally aware of her growing desire to become a scientist and of societal expectations that make her dream seem nearly impossible. Interwoven with the scientific theme are threads of daily life in a large family the bonds with siblings, the conversations overheard, the unspoken understandings and misunderstandings all told with wry humor and a sharp eye for details that bring the characters and the setting to life."
Starred review in SCHOOL LIBRARY JOURNAL: "Callie's confusion and despair over her changing life will resonate with girls who feel different or are outsiders in their own society. Callie is a charming, inquisitive protagonist; a joyous, bright, and thoughtful creation. The conclusion encompasses bewilderment, excitement, and humor as the dawn of a new century approaches."
Review from PUBLISHERS WEEKLY: "Callie follows her passion for knowledge, coming to realize her family "had their own lives. And now I have mine." Callie's transformation into an adult and her unexpected bravery make for an exciting and enjoyable read. Kelly's rich images and setting, believable relationships and a touch of magic take this story far."
CONNECTIONS
*After you read a chapter, go back to the beginning of the chapter and read the quote from Darwin's THE ORIGIN OF SPECIES. How does the quote relate to Callie and her family?
*The book ends with a snow fall that brings in the New Year and the new millennium, 1900. What do you think the snow fall symbolizes for Callie? Do you think that she will continue to study science? Will she give up science to become a proper young lady as her mother wishes? Do you think that she could do both? If so, what kind of difficulties might she encounter?
*The librarian wouldn't let Callie check out Darwin's book from the library, why? What do you think the librarian would let Callie check out THE EVOLUTION OF CALPURNIA TATE? Why or why not? This would be a good tie-in with Banned Book Week.
*The following books feature activities for young scientists. Work on one of the activities with the kids and discuss how scientists use observation to answer questions about the natural world, just as Callie and her Granddaddy.
Burns, Loree Griffin. 2012. CITIZEN SCIENTISTS: BE A PART OF SCIENTIFIC DISCOVERY FROM YOUR OWN BACKYARD. Photos by Ellen Harasimowicz. ISBN 9780805090628
Bottone, Frank G. 2001. THE SCIENCE OF LIFE: PROJECTS AND PRINCIPLES FOR BEGINNING BIOLOGISTS. ISBN 978-1556523823
*Non-fiction books about women scientists:
Atkins, Jeannine. 2000. GIRLS WHO LOOKED UNDER ROCKS: THE LIVES OF SIX PIONEERING NATURALISTS. Ill. by Paula Conner. ISBN 978-1584690115
Ebersole, Rene. 2006. GORILLA MOUNTAIN: THE STORY OF WILDLIFE BIOLOGIST AMY VEDDER. ISBN 978-0309095518
O'Connell, Caitlin, & Donna M. Jackson. 2011. THE ELEPHANT SCIENTIST. Ill. by Timothy Rodwell. ISBN 978-0547053448
Ross, Michael Elsohn. 2000. POND WATCHING WITH ANN MORGAN. Ill. by Wendy Smith. ISBN 978-1575053851
Stille, Darlene R. 1995. EXTRAORDINARY WOMEN SCIENTISTS. ISBN 978-0516005850
*Non-fiction books about Charles Darwin and evolution:
Heiligman, Deborah. 2009. CHARLES AND EMMA: THE DARWINS' LEAP OF FAITH. ISBN 978-0312661045
Lawson, Kristan. 2003. DARWIN AND EVOLUTION FOR KIDS: HIS LIFE AND IDEAS WITH 21 ACTIVITIES. ISBN 978-1556525025
Schanzer, Rosalyn. 2009. WHAT DARWIN SAW: THE JOURNEY THAT CHANGED THE WORLD. ISBN 978-1426303968
Sis, Peter. 2003. THE TREE OF LIFE: CHARLES DARWIN. ISBN 978-0374456283
One Crazy Summer by Rita Williams-Garcia
BIBLIOGRAPHY
Williams-Garcia, Rita. 2010. ONE CRAZY SUMMER. Narrated by Sisi Aisha Johnson. ISBN 9781449821968
PLOT SUMMARY
It is the summer of 1968 and Delphine and her younger sisters, Fern and Vonetta, are on their way to visit their mother in Oakland, California. They can't wait to arrive, to visit Disneyland and meet movie stars. But their mother, who left the girls with their father after Fern was born to fulfill her dream of becoming a poet and a printer, doesn't have time to spend on sightseeing. Instead, she sends the girls to spend their days at the People's Center, run by the Black Panthers. Cecile is too busy to be a mother to the girls and as the oldest Delphine feels responsible for keeping her sisters in line, so as not to create a "grand negro spectacle." As the sisters and the other children at the People's Center work to do their part for the revolution, distributing flyers and working on pieces to perform for the big rally for Bobby Hutton, Delphine struggles to reconcile her need to protect her sisters with her desire to be her own person and to gain the love and respect of her gruff and reluctant mother. What will happen at the rally and how will Delphine and her sisters feel about leaving Oakland at the end of the summer?
CRITICAL ANALYSIS
For this review I listened to the unabridged five CD audio book read by Sisi Aisha Johnson and produced by Recorded Books, LLC. Delphine's world is created by Johnson alone without the aid of music or sound effects. Johnson's voice makes each character come alive with a distinct voice and vocal mannerisms, from innocent and playful Fern to showy, crowy Vonetta to the strong and yet vulnerable Delphine. Johnson ably embodies the supporting characters as well. For instance, Hirohito, the adolescent boy who both annoys and intrigues Delphine, comes alive as both gruff and eager. The book includes several poems, which Johnson handles deftly and even the prose of the book sounds like poetry when spoken by Johnson.
I found the listening experience emphasized the poetic quality of the book. In addition to bringing out the rhythm and lyrical qualities of the prose, Johnson's performances of the poems in the book made me stop and listen. After I listened to the audio book, I read the chapters in the book that contained poems to see how the poems were arranged on the page and how that affected the experience. I found that I not only enjoyed the poems more when I heard them read aloud, they also made a stronger impression. The audiobook, like the print version, does not include an introduction, afterward, or author's note.
ONE CRAZY SUMMER provides a child's perspective of social change and the Black Panther movement, making this historical time period accessible to young readers. Important events, such as Bobby Hutton's death, and historical figures, such as the Black Panthers and Huey Newton, are explained as part of the plot. Delphine is learning about the world around her as readers learn about Oakland in 1968. References to popular music, books, and events of the time serve to include the reader rather than distancing them by time.
In addition to themes of sisterhood and family, Williams-Garcia focuses on Delphine's struggle to fulfill her responsibilities to her sisters, Pa, and Big Ma, but not give up her dreams. As Delphine grows to understand the complexities of the world around her, she learns that the reasons her mother left were equally complex. By the end of the book, Delphine accepts that she will never have the mother-daughter relationship that she desires, but she has gained greater understanding into the reasons for Cecile's choices.
Although Delphine and her sisters sing along with Brenda and the Tabulations and cheer Bill Cobsy on "I-Spy," their relationship as sisters is timeless. As is Delphine's struggle to protect her sisters and be true to her own desires. Eldest siblings will be especially attracted and empathetic to the character of Delphine, as she struggles to be responsible for her sisters, while at the same time growing up and exploring the world on her own.
The book is split up into short, episodic chapters that are the perfect length for reading aloud. The wonderful dialogue and distinct characters make this book a great reader's theater candidate as well.
AWARDS/REVIEW EXCERPT(S)
Coretta Scott King Book Award Winner
Scott O'Dell Historical Fiction Award Winner
School Library Journal Best Books of the Year
Newbery Medal Honor Book
Judy Lopez Memorial Award for Children's Literature Honor Book
National Book Award Finalist
Parents' Choice Award Gold Fiction
Audie Award Finalist
Review from SCHOOL LIBRARY JOURNAL: "Sisi Aisha Johnson infuses each character with a distinct personality and the tone is upbeat and even humorous. She perfectly captures each character's voice, and her delivery is silky smooth and perfectly paced. Seeing the historic summer of '68 through the eyes of sensitive, intuitive Delphine is a treat. Featuring flawless writing and narration, this is storytelling at its finest."
Review from PUBLISHERS WEEKLY: "Delphine's growing awareness of injustice on a personal and universal level is smoothly woven into the story in poetic language that will stimulate and move readers."
Starred review from BOOKLIST: "Set during a pivotal moment in African American history, this vibrant novel shows the subtle ways that political movements affect personal lives; but just as memorable is the finely drawn, universal story of children reclaiming a reluctant parent's love."
Review from VOICE OF YOUTH ADVOCATES: "The historical details sprinkled throughout the book do not seem forced; rather, they lend authenticity to the setting, and the portrayal of the Black Panthers breaks with the harsher stereotypes."
CONNECTIONS
*Questions to ask kids after they read the book:
-Do you think the girls got an education in Oakland they otherwise would not have gotten in Brooklyn? Why or why not?
-How do you think each sister changed during their four weeks in Oakland?
-Of the three sisters, Delphine, Vonetta and Fern, whom did you most relate to? Why?
*The book is set in 1968, a year full of social change. Ask students to research 3 other events that happened this year and to share them as a presentation or as a paper. The 1968 Exhibit is a great resource:
http://www.the1968exhibit.org/
*Read the poem, WE REAL COOL by Gwendolyn Brooks. It's a short poem and can easily be split up to be spoken line by line in groups or individuals. Listen to Brooks read the poem aloud here:
http://www.poets.org/viewmedia.php/prmMID/15433
*Read the poems, WHAT HAPPENED TO A DREAM DEFERRED?, DREAMS, and CHILDREN'S RHYMES by Langston Hughes. What would Cecile think of these poems? How about Delphine?


*Read I BIRTHED A BLACK NATION, the poem that Cecile writes in the book. Split up the lines into three parts and read it aloud as the sisters do in the book. You can also play a clip of the audiobook to hear Johnson read the poem.


*Read another fiction book set in the 1960's. How do the events of the 1960's affect the characters in these books as compared to Delphine and her sisters?
Curtis, Christopher Paul. 2000. THE WATSONS GO TO BIRMINGHAM – 1963. ISBN 978-0440228004
Magoon, Kekla. 2009. THE ROCK AND THE RIVER. ISBN 978-1416975823
Schmidt, Gary D. 2009. THE WEDNESDAY WARS. ISBN 978-0547237602
Wiles, Deborah. 2010. COUNTDOWN. ISBN 978-0545106054


*Non-Fiction Books about the Civil Rights Movement:
Finlayson, Reggie. 2002. WE SHALL OVERCOME: THE HISTORY OF THE AMERICAN CIVIL RIGHTS MOVEMENT. ISBN 978-0822506478
Levine, Ellen S. 2000. FREEDOM'S CHILDREN: YOUNG CIVIL RIGHTS ACTIVISTS TELL THEIR OWN STORIES. ISBN 978-0698118706
Rochelle, Belinda. 1997. WITNESSES TO FREEDOM: YOUNG PEOPLE WHO FOUGHT FOR CIVIL RIGHTS. ISBN 978-0140384321

*Other Books by Williams-Garcia:
1996. BLUE TIGHTS. ISBN 978-0140380453
1998. FAST TALK ON A SLOW TRACK. ISBN 978-0141302317
1998. LIKE SISTERS ON THE HOMEFRONT. ISBN 978-0140385618
2002. EVERY TIME A RAINBOW DIES. ISBN 978-0064473033
2003. NO LAUGHTER HERE. ISBN 978-0688162474
Dragonwings by Laurence Yep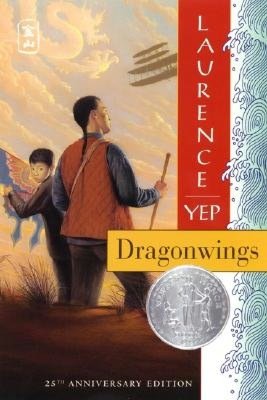 Yep, Laurence. 1975. Dragonwings Cover. Cover art by Tim O'Brien. Cover design by Karin Paprocki. From http://img2.imagesbn.com/images/102670000/102676114.jpg
BIBLIOGRAPHY
Yep, Laurence. 1975. DRAGONWINGS. New York: HarperTrophy. ISBN: 0064400859
PLOT SUMMARY
Part of the GOLDEN MOUNTAIN CHRONICLES, this book focuses on eight year old Moon Shadow, who immigrants from China to the United States in 1903 to live with his father, Windrider, in San Francisco. Father and son work long hours in the Chinatown laundry run by Uncle Bright Star and the other Chinese men. At first Moon Shadow is afraid of the white "demons" who look and behave so differently, but as learns more about his new home, he finds the commonalities between the two cultures and people. Windrider dreams of building a flying machine so that he can fly like the dragons and although Moon Shadow has to endure mockery, poverty, and even the devastating earthquake of 1906, his faith in his father and his dream never falter.
CRITICAL ANALYSIS
Cultural and historical references are grounded in reasoning, making the characters choices understandable. For example, Moon Shadow explains the cultural differences between the benevolent and powerful dragons of the Tang (Chinese) people and the destructive, fire breathing dragons of the Western world. His explanation helps the reader to understand why he thinks his father's dream is so important and prophetic.
The book reflects the broad spectrum of morals held by Chinese immigrants and white Americans of the time, presenting the positive and the negative aspects. Neither race is depicted as absolutely good or bad; the characters are individuals, each with their own personal flaws. At first, readers may be taken aback at Moon Shadow referring to white people as "demons," however, by the end of the book Moon Shadow realizes that white people, just like Tang people, have the capacity to be both good and bad. In other words, he finds the humanity in both cultures.
Dialogue uses the vernacular and conventions of turn of the century San Francisco. Yep establishes the concept that Moon Shadow thinks and speaks in Chinese by putting denoting words spoken in English in italics. This puts us inside Moon Shadows mind. By viewing the world through Moon Shadows eyes the reader is able to learn as he learns.
In the author's note Yep describes this book as an historical fantasy, rather than merely historical fiction. This is most noticeable in the Windrider's description of meeting the dragon king in his dream. In addition, Yep writes that he was fascinated by newspaper accounts of a young Chinese man, Fung Joe Guey, who flew in the hills of Oakland in 1909. He used these accounts as inspiration for the character of Windrider. The author's note also gives an explanation of the term Tang and cautions readers that it does not refer to the violent Tong hachetmen, but rather to the Tang Dynasty which ruled China for several hundred years.
Although Yep describes this book as an historical fantasy, the foundation of the book is laid with accurate research. This is most strikingly evident in the use of vivid imagery to describe San Francisco before and after the earthquake. The story also shows how people dealt with the aftermath of the disaster, living in tents in Golden Gate Park, and how the government treated the displaced Chinese men. These details not only provide a rich historical picture, they also play a major role in the lives of the characters.
The only weakness is that although the plot is realistic and full of historical details, at times it lacks a sense of urgency. The pacing of the book is somewhat uneven and sometimes I found my mind wandering. That said, the book is filled with exciting scenes and engaging dialogue, which help to compensate for its weaknesses.
AWARDS/REVIEW EXCERPT(S)
Carter G. Woodson Book Award Winner
Phoenix Award Winner
International Reading Association Children's Book Award Winner
Newbery Honor Book
Jane Addams Children's Book Award Honor Book
Review from SCHOOL LIBRARY JOURNAL: "An unusual historical novel, unique in its perspective of the Chinese in America and its portrayal of early 20th Century San Francisco, including the Earthquake, from an immigrant's viewpoint."
Review in THE HORN BOOK MAGAZINE: "He [Yep] successfully differentiates individual voices in the large cast of characters: Moon Shadow's voice is young, light, and quick with eager interest; his father's voice, deep, slow, and confident; Uncle Bright Star's, overbearing and slightly pompous. Although the voices of the white "demons" seem exaggerated, they effectively convey the sense of how a Chinese ear might hear the odd syllables and intonations of English. Best of all is the way Moon Shadow pronounces English words: as if cautiously tasting an exotic bit of food."
CONNECTIONS
*In the book dragons have different connotations to different cultures. For instance, Moon Shadow sees dragons as powerful characters who are both good and bad, while Miss Whitlaw sees them as evil creatures to be defeated. Look at the symbolism of other animals in different cultures. Start by examining the symbolism of the Chinese zodiac animals. This is a great activity to tie-in with Chinese New Year.

*Ask the kids why they think Yep put English words in italic. The book is from Moon Shadow's perspective, would different words be italicized if it was from the perspective of another character?

*Other fiction books about the San Francisco Earthquake of 1906:
Gregory, Kristiana. 2003. EARTHQUAKE AT DAWN. ISBN 978-0152046811
Hopkinson, Deborah. 2008. INTO THE FIRESTORM: A NOVEL OF SAN FRANCISCO, 1906. ISBN 978-0440421290
Yep, Laurence. 2008. THE EARTH DRAGON AWAKS. ISBN 978-0060008468
*Non-fiction books about earthquakes:
Fradin, Judy. 2008. WITNESS TO DIASTER: EARTHQUAKES. ISBN 978-1426302114
Simon, Seymour. 2006. EARTHQUAKES. ISBN 978-0756967420
VanCleave, Janice. 1993. JANICE VANCLEAVE'S EARTHQUAKES: MIND-BOGGLING EXPERIMENTS YOU CAN TURN INTO SICENCE FAIR PROJECTS. ISBN 978-0471571070
*Use the non-fiction books mentioned above with poems from the following collection:
Peters, Lisa Westberg. 2003. EARTHSHAKE: POEMS FROM THE GROUND UP. Ill. by Cathie Felstead. ISBN 978-0060292652

*Read another book by Yep in the GOLDEN MOUNTAIN CHRONICLES and compare the experiences and perspective of the narrator(s) to that of Moon Shadow:
1990. CHILD OF THE OWL. ISBN 978-0064403368
1995. DRAGON'S GATE. ISBN 978-0064404891
1996. THE SERPENT'S CHILDREN. ISBN 978-0064406451
1997. MOUNTAIN LIGHT. ISBN 978-0064406673
1997. THIEF OF HEARTS. ISBN 978-0064405911
2002. SEA GLASS. ISBN 978-0064410038
2003. THE TRAITOR. ISBN 978-0060275228
2008. DRAGON ROAD. ISBN 978-0060275204

*Other fiction books about the Chinese-American Experience
Currier, Katrina Saltonstall. 2004. KAI'S JOURNEY TO GOLD MOUNTAIN: AN ANGEL ISLAND STORY. ISBN 978-0966735246
Lee, Milly. 2006. LANDED. Ill. by Yangsook Choi. ISBN 978-0374343149
Lord, Bette Bao. 1986. IN THE YEAR OF THE BOAR AND JACKIE ROBINSON. Ill. by Marc Simont. ISBN 978-0064401753
Yep, Laurence. 2010. THE STAR MAKER. ISBN 978-0060253158
Yep, Laurence, & Dr. Kathleen S. Yep. 2008. THE DRAGON'S CHILD: A STORY OF ANGEL ISLAND. ISBN 978-0060276928