Habibi by Naomi Shihab Nye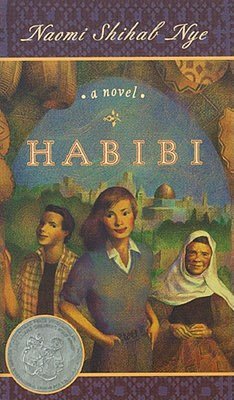 Nye, Naomi Shihab. 1997. Habibi Cover. Jacket art by Raul Colon. Image from:http://www.barnesandnoble.com/w/habibi-naomi-shihab-nye/1100363857
Nye, Naomi Shihab. 1997. HABIBI. New York: Simon Pulse, an imprint of Simon & Schuster. ISBN 0-689801491
The year Liyana Abboud turns fourteen her parents decide to move the family across the ocean from St. Louis to Palestine/Israel, where her Arabic father, Poppy, was born and raised. Liyana's brother, Rafik is excited, but Liyana's not so sure. She'll be leaving the only place she's ever lived in, all of her friends, and the first boy to kiss her. Poppy transfers to a hospital in Jerusalem and the family rents a house between the ancient city and the town of Ramallah where Liyana's grandmother, Sitti, and countless uncles, aunts, and cousins live. Although there are many things Liyana likes in her new country—the interesting people she meets, the grey Arabic notebooks just right for sticking in your pocket, delicious foods like katayef—she struggles to learn Arabic and to understand the cultural expectations set by society for teenage girls.

Then she meets charismatic and intelligent Omer and all of her doubts about her new country fade. But Omer is Jewish and the two find their friendship forbidden by years of animosity and hate between the Arabs and the Jews. Will Liyana's family ever accept her budding romance with Omer? Will this new country ever feel like home?
The book begins with portions of two poems and a quotation from Anndee Hochman that address the passage of time, the meaning of home, and the intertwined nature of Israel and Palestine. These poems not only prepare the reader for the themes of the story, but also echo Nye's unique, poetic style of writing.
The book reads like a series of chronological essays with each one contributing to Liyana's growing understanding of her family, her identity, her hopes, and her culture. This is illustrated by the subtitle of the last chapter, "Doors: There was a door in the heart / that had no lock on it" (p. 268).
Liyana is a budding writer and spends most of her free time observing and writing. For example, she keeps a running list of first lines for stories or poems or movies. This interest allows Nye to explore words and their meanings to their fullest extent. Liyana is not content with the surface meaning of a word, a phrase, or a person. She stubbornly delves deeper, which leads her to more questions and curiosities. Through Liyana's eyes Nye is able to include many cultural markers including the preparation and eating of food, bustling market places, school life, and several major landmarks, such as the Dead Sea.
Liyana is becoming a woman and is confronted with cultural markers in the differences in gender roles, clothing, and behaviors between her male and female relatives. Liyana struggles to accept societal and cultural norms in her new country, especially those that restrict her from doing things she could do in St. Louis because she is female. Liyana had her first kiss before leaving America, so she can't understand why boys and girls in Jerusalem aren't allowed to kiss when family and friends kissed each other constantly on the cheeks. Poppy replies that public kissing "is not okay here. It is simply not done. Anyway, it is not supposed to be done." Liyana fires back, "Not by anyone?...Not by Greeks or Jews or Armenians, or only not by Arabs?" (p. 61).
Nye examines the fragile relationship between Arabs and Jews from an outsider's point of view. Although her father is Arabic, Liyana thinks of herself as "the half-American with the Arab eyes in the navy blue Armenian school uniform" (p. 84). Although a mostly Arabic perspective is presented, Nye uses Omer to bring a Jewish point of view into the story. Through Liyana's story Nye advocates for peace, but she does not paint a rosy picture of the current relationship between the two peoples. She acknowledges that there is pain and resentment of many years on both sides. For instance, Susan, Liyana's mother, urges her children to think of families fighting at dinner tables. Family members fight because they care, "with strangers you don't care so much." Rafik agrees, "if you didn't love someone why would you even bother to fight with him?" And so Liyana wonders, "Do you think the Arabs and Jews secretly love one another?" and Poppy replies, "I think…they are bonded for life. Whether they like it or not" (p. 73). However, although Nye wishes for a more peaceful future, violence and hate are a part of this story, such as the ransacking of Sitti's house and the short, but terrifying imprisonment of Liyana's father.
Even though Nye tackles big issues, including hate, faith, and peace, Liyana's voice remains hopeful. The Abboud's are a humorous family and they often choose to see the amusing side of a situation. For instance, the headmaster at Liyana's new school, a priest wearing a burgundy robes and a giant pointed hat, informs her that she cannot wear her ring because it is considered a distraction. Later, Liyana comments to Poppy, "Distraction? If I were wearing a giant cosmic cone on my head, would I have room to talk?" (p. 78).
Nye deftly navigates the multilingual aspects of living in Israel. The story is written from Liyana's perspective, who struggles to learn Arabic and has very little knowledge of Hebrew, however, all non-English words are printed in italics and explained within the text. The most notable term is the title, which Liyana explores and defines in a chapter subtitled, "Darling: a dearly loved person, / a favorite, a charmer" (p. 213). The number of languages spoken in the city is used to emphasize the unwillingness of Arabs and Jews to communicate, no matter how many languages they speak.
Liyana struggles to accept her new home because she loved her old home so much, but gradually she comes to understand that "every day is a new map. But it's just a scrap of it, an inch" (p. 266). She realizes that moving to Jerusalem is not the beginning or end of her story, but the middle. The conclusion of Nye's book is open-ended, yet satisfying. Liyana accepts her new home into her heart, the good and the bad, and although she knows that peace between the Arabs and Jews will not come easily, it is not impossible. And so the book ends on a hopeful note.
4.
AWARDS/REVIEW EXCERPTS
ALA Notable Books for Children
Jane Addams Children's Book Award
Judy Lopez Memorial Award (Women's National Book Association, L.A. Chapter)
New York Public Library Book for the Teen Age
Texas Institute of Letters Best Book for Young Readers
Review in PUBLISHER'S WEEKLY: "
Nye's climactic ending will leave readers pondering, long after the last page is turned, why Arabs, Jews, Greeks and Armenians can no longer live in harmony the way they once did."
Review from SCHOOL LIBRARY JOURNAL: "Though the story begins at a leisurely pace, readers will be engaged by the characters, the romance, and the foreshadowed danger. Poetically imaged and leavened with humor, the story renders layered and complex history understandable through character and incident. Habibi succeeds in making the hope for peace compellingly personal and concrete...as long as individual citizens like Liyana's grandmother Sitti can say, 'I never lost my peace inside.'"
Review in BOOKLIST: "
The story is steeped in detail about the place and cultures: food, geography, history, shopping, schools, languages, religions, etc. Just when you think it is obtrusive to have essays and journal entries thrust into the story, you get caught up in the ideas and the direct simplicity with which Nye speaks. She does try to cover too much--no book can tell the whole story of the Middle East--but this is a story that makes us 'look both ways.'"
*The chapters have poetic subheadings. Have each teen pick one and write about why they chose it, how it related to the content of the chapter, and if it relates to their own life.
*Other books that address the relationship between Arabs and Jews in Israel:
Abulhawa, Susan. 2010. MORNINGS IN JENIN. ISBN 978-1608190461
Barakat, Ibtisam. 2007. TASTING THE SKY: A PALESTINIAN CHILDHOOD. ISBN 978-0374357337
Carmi, Daniella. 2002. SAMIR AND YONATAN. ISBN 978-0439135238
Laird, Elizabeth. 2006. A LITTLE PIECE OF GROUND. ISBN 978-1931859387
Levine, Anna. 1999. RUNNING ON EGGS. ISBN 978-0812628753
*Books of poetry for children and teens by Nye:
Nye, Naomi Shihab. 2001. WHAT HAVE YOU LOST? ISBN 978-0380733071
Nye, Naomi Shihab. 2005. 19 VARIETIES OF GAZELLE: POEMS OF THE MIDDLE EAST. ISBN 978-0060504045
Nye, Naomi Shihab. 2005. A MAZE ME: POEMS FOR GIRLS. Ill. Terre Maher. ISBN 978-0060581893
*Essays and short stories by Nye:
Nye, Naomi Shihab. 1996. NEVER IN A HURRY: ESSAYS ON PEOPLE AND PLACES. ISBN 978-1570030826
Nye, Naomi Shihab. 2007. I'LL ASK YOU THREE TIMES, ARE YOU OK?: TALES OF DRIVING AND BEING DRIVEN. ISBN 978-0060853921
Nye, Naomi Shihab. 2011. THERE IS NO LONG DISTANCE NOW: VERY SHORT STORIES. ISBN 978-0062019653
In Our Mothers' House by Patr

icia Polacco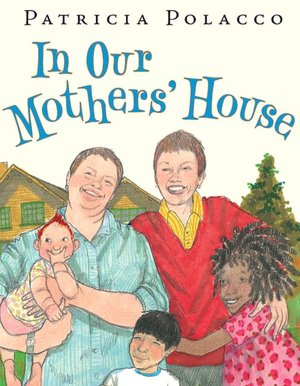 Polacco, Patricia. 2009. In Our Mothers' House Cover. Jacket art by Patricia Polacco. Image from: http://www.barnesandnoble.com/w/in-our-mothers-house-patricia-polacco/1100032219?ean=9780399250767
Polacco, Patricia. 2009. IN OUR MOTHERS' HOUSE. New York: Philomel Books. ISBN 978-0399250767
Narrated by their oldest child, a lanky African-American girl with springy black curls, this book celebrates the joy and love of a family composed of two mothers and three adopted children. Short and stout, Meema was a pediatrician and tall and thin Marmee, who could organize and fix anything, was a paramedic. The narrator's younger Asian-American brother, Will, and artistic red-haired, bespectacled Millie completed the family. The children grow up in a beautiful old house in Berkeley, California and the narrator lovingly describes her memories of cooking in the kitchen, dressing up for Halloween, making dresses for the mother-daughter tea, and the annual neighborhood block party. Although the family was attacked for their lifestyle by their neighbor Mrs. Lockner, the children were always comforted by the love of their mothers. Eventually the children grow up, get married, and have children of their own. Although Marmee and Meema have passed away, the narrator is reassured because "all of our hearts find peace whenever we are there…not only remembering them, but being there, together, in our mothers' house."
The positive aspects of being part of a family with two mothers are emphasized in this story. Sometimes it seems too good to be true. The story is a nostalgic look at the narrator's childhood and family, so it is somewhat understandable that Polacco chooses to highlight positive, rather than negative, memories. Although the story is elevated by characters that are not stereotypical or one dimensional, at times the realism of the book suffers under the pressure of representing an idealized family.
The story, a tribute to two loving parents who just happen to be lesbians, is written almost entirely in first person past tense, which makes the reader feel like one of the family. The pen and marker illustrations are bright and lively. The people and settings are realistic and detailed, yet Polacco's lines are loose and sketchy. Each two page spread describes a memory of something that happened in or around the house. Together these episodes create a tapestry that illustrates the Marmee and Meema's love of their children and their community.
Although Mrs. Lockner's attack on the family provides a small conflict the book is character and place, rather than plot driven. Polacco mentions that the house is located in Berkeley, California, however the city is not as important as the house itself. This universal story of love and family could easily take place in any city. There is a contemporary timelessness to the illustrations; the story could be set in the 1970's or the 2000's. The neighborhood is very diverse with people of many cultural backgrounds. This is most noticeable in the illustration of the block party food court which features people of all ages, hair and skin colors. Meema says, "Aren't we all something?" when she sees the stuffed grape leaves brought by the Maricians, the Polos' spanakopita, and the hummus and tabouli brought by the Abdullas.
The communal sharing of food is a recurring element in the narrator's memories. The children not only cook and eat food with their mothers, but also with their grandparents, uncles, aunts, cousins, friends, and neighbors. The narrator remembers, "At our table we didn't only eat, thought. Marmee and Meema made sure of that. Everyone talked about everything…What I loved most about our family was that we could all speak our hearts. We never measured words"
Polacco has developed distinct, complimentary personalities for Marmee and Meema. The narrator describes them as "so different from each other that all of us often wondered how they found each other at all." The narrator lovingly describes the careers and passions of each woman. Their sexual orientation is never addressed directly, although it is clear the two women are in a relationship. Although some readers may wish for a more direct approach, the benefit of Polacco's approach is that each adult can discuss the topic in the way they are most comfortable.
Both mothers are open about their relationship to their children, parents, and the community. They take pride in the accomplishments of their children and are willing to step outside of their personal comfort zones to support their children. For instance, both daughters are ecstatic when they are picked to host the mother-daughter tea. Although Meema and Marmee never wear dresses, they enthusiastically sew long pastel dresses to wear to the event. In retrospect the narrator acknowledges how uncomfortable her mothers were and how much it meant to her and her sister, "My heart still skips a beat when I think of the two of them trying so hard to please us in those awkward, sweeping, ridiculous dresses."
Unfortunately, prejudice is embodied by a single character, Mrs. Lockner, which does not present a realistic depiction of the barriers same-sex couples face. This also seems like a wasted opportunity for Polacco to address other forms of hate that children with same-sex parents often encounter, such as bullying by their peers. However, adopted children and/or children with same-sex parents will see themselves positively reflected in this book.
Best Books for Children: Preschool-Grade 6 – 9th Edition

Review in SCHOOL LIBRARY JOURNAL: "Is this an idealized vision of a how a gay couple can be accepted by their family and community? Absolutely. But the story serves as a model of inclusiveness for children who have same-sex parents, as well as for children who may have questions about a "different" family in their neighborhood. A lovely book that can help youngsters better understand their world."

Starred review in BOOKLIST: "The energetic illustrations in pencil and marker, though perhaps not as well-rendered as in some previous works, teem with family activities and neighborhood festivity. Quieter moments radiate the love the mothers feel for their children and for each other."

Review in KIRKUS REVIEWS: "The distillation of hate into a single character undermines the reality of systematic oppression faced by same-sex couples; furthermore, the flash-forward narration depicting each child grown and married into heterosexual, monoracial unions ironically presents this family as an anomaly. There is a desperate need for books that present queer families as just another part of the American quilt, but this title, despite its obvious good intentions, doesn't do it."
*What would your house say, "If walls could talk"? Encourage kids to write about an unforgettable experience that happened in the house they live in now or in the house they loved the most.
*Other books by Patricia Polacco:
Polacco, Patricia. 1993. SOME BIRTHDAY! ISBN 978-0671871703
Polacco, Patricia. 1994. PINK AND SAY. ISBN 978-0399226717
Polacco, Patricia. 1998. ROTTEN REDHEADED OLDER BROTHER. ISBN 978-0689820366
Polacco, Patricia. 2008. EMMA KATE. ISBN 978-0142411964
Polacco, Patricia. 2012. THANK YOU, MR. FALKER. ISBN 978-0399257629
*Other books about adopted children:
Cummings, Mary. 2006. THREE NAMES OF ME. Ill. Lin Wang. ISBN 978-0807579039
Lewis, Rose A. 2000. I LOVE YOU LIKE CRAZY CAKES. Ill. Jane Dyer. ISBN 978-0316525381
Lewis, Rose A. 2004. EVERY YEAR ON YOUR BIRTHDAY. Ill. Jane Dyer. ISBN 978-0316525527
Rosenberg, Liz. 1999. WE WANTED YOU. Ill. Peter Catalanotto. ISBN 978-0761326618
Say, Allen. 2004. ALLISON. ISBN 978-0618495375
*Other books about children with same sex parents:
Garden, Nancy. 2004. MOLLY'S FAMILY. Ill. Sharon Wooding. ISBN 978-0374350024
Newman, Leslea. 2011. DONOVAN'S BIG DAY. Ill.

Mike Dutton. ISBN 978-1582463322
Oelschlager, Vanita.

2010. A TALE OF TWO DADDIES. Ill. Kristin Blackwood. ISBN 978-0981971452
Oelschlager, Vanita. 2011. A TALE OF TWO MOMMIES. Ill. Mike Blanc. ISBN 978-0982636664
Setterington, Ken. 2004. MOM AND MUM ARE GETTING MARRIED. Ill. Alice Priestley. ISBN 978-1896764849
Becoming Naomi
Le
ó
n by P

am
Mu
ñ
oz Ryan
Ryan, Pam Mu

ñ

oz

. 2003. Becoming Naomi

Le

ó

n

Cover. Jacket art by Joe Cepeda. Jacket design by Marijka Kostiw. Image from http://www.amazon.com/Becoming-Naomi-Leon-Munoz-Ryan/dp/B00722TSJI/ref=sr_1_4?ie=UTF8&qid=1354568306&sr=8-4&keywords=becoming+naomi+leon


1.
BIBLIOGRAPHY
Ryan, Pam Mu
ñ
oz. 2004. BECOMING NAOMI LE
Ó
N. New York: Scholastic Press. ISBN 0-439269695
Shy and quiet Naomi Soledad Le
ó
n Outlaw is contented with her life. She lives with her great-grandmother and her younger brother, Owen, in the Avocado Acres Trailer Rancho in Lemon Tree, Oklahoma. She doesn't think much about the father she doesn't remember and the mother who abandoned her until one evening when her mother, who now calls herself Skyla, arrives at the door. Although the siblings are initially excited about meeting their mother, it soon becomes clear that Skyla has plans to separate her children. She lavishes gifts on Naomi, but blatantly ignores Owen, who was born with his head tilted to one side and one leg shorter than the other. When Skyla and her new boyfriend threaten Naomi, Gram and her neighbors Fabiola and Bernardo pack up the trailer and head to Oaxaca, Mexico to find Naomi's father. In Mexico Naomi not only discovers her family, but also finds her voice and becomes Naomi Le
ó
n, Naomi the Lion.
Mu
ñ
oz has created a believable juvenile character and the text is written in first person past tense from Naomi's point of view. Naomi is very artistic and observant. She is also aware of the emotions of those around her. Although it is clear that Mu
ñ
oz knows the back story of each of her characters, the story is told from Naomi's perspective. There are times when Naomi is able to tell something is wrong and she can describe her feelings, but is not able to put a label on it. The most notable instance is the way in which Mu
ñ
oz candidly relates the issues of Skyla's alcoholism, anger, depression, and the abandonment of her children.
There is a strong relationship between the siblings and although Naomi is often annoyed by her little brother it is clear she loves him. Naomi and Owen share a common hope of being wanted and loved by their family. This theme is underscored by the titles of the chapters, which are names for collective groupings of animals, such as "a shiver of sharks" and "a piteousness of doves." The twenty-one chapters are divided into three sections. The first section, "A Rabble of Yesterdays," takes place in Oklahoma. "A Passel of Todays" covers Naomi's visit to Mexico and the outcome of the custody hearing. The final section is a three page epilogue, "A Murmuration of Tomorrows," that ties up all the loose ends of the story and provides a platform for Naomi to reflect on how the events of the book shaped her, "I hoped by father was right, that like the figures we carved from wood and soap, I was becoming who I was meant to be, the Naomi Soledad Le
ó
n Outlaw of my wildest dreams" (p. 246).
Owen, born with deformities, perhaps caused by Skyla's alcohol or drug abuse, has developed ways to cope with the taunts of the other school kids. Owen wears a strip of transparent tape on the front of this shirt. Naomi cannot explain it, but she knows it makes Owen feel safe. Even though he has had more than his share of hardships, Owen is an optimistic boy. He is clearly hurt when his mother ignores him, but he chooses to think positive. For instance, when Naomi harshly tells Owen that "Skyla would probably like you better, too, if you tried to please her," she immediately wants to take back her words, but Owen decides to see the bright side of the situation. He finds a penny on the ground, "Hey Naomi. 'Find a penny pick it up, and all the day you'll have good luck'!...I found a penny and our mother came back and she's coming to our conference today…I think that's very lucky" (p. 69). Owen maybe optimistic, but his character is not a stereotype of the happy-go-lucky disabled person. Mu
ñ
oz's characters are three dimensional and although Owen tends to be positive, Naomi is close enough to her brother to see the pain beneath the happy surface.
Finding your voice is a major theme in the book. Although Naomi was not born with physical deformities, she continues to be deeply traumatized by her mother's actions. When she was first left at Gram's she did not speak and during the majority of the book she is quiet and shy. She knows what she wants to say, but cannot seem to make it come out of her mouth. When Owen is teased at school Naomi notes, "I wanted to tell him to leave us alone, but as much as I tried I couldn't say a word" (p. 67). Naomi's voice strengthens as the story progresses so that when she is asked to speak up at the hearing she is able to confidently tell the judge her opinion. She remembers, "It was as if the stampede crashed through the wall in front of me" (p. 236).
There are cultural markers from three distinct cultures in this book—Oklahoman, Mexican (specifically from the Oaxaca region), and Aztec. These markers are put into relief by the contrast between Lemon Tree, Oklahoma and Jalatlaco, Mexico. We see Mexico for the first time through Naomi's observant and hopeful eyes and this allows Mu
ñ
oz to describe Jalatlaco vividly.
Mu
ñ
oz denotes Aztec and Spanish words in italics. She also takes care to mention words that are Aztec, rather than Spanish. Words and definitions are well integrated into the dialogue and narrative of the text. Mu
ñ
oz does not coddle the reader; she may use a word many times in the text, but she only defines it once. Pronunciation is cleverly incorporated into the text. For instance, when Naomi sees a sign for Quesillo in the market she sounds out the word, "Keh-sill-owe," to which Fabiola nods approvingly and says, "It's pronounced keh-see­-owe…but you are learning very fast, Naomi" (p. 156). As the story progresses and Naomi learns more about her Mexican heritage the number of Spanish words in her narrative increases.
Food is a major cultural marker throughout the story. In Oklahoma Gram cooks a particular food for each day of the week, "Wednesday chicken bake," (p. 4), "Thursday pork chops" (p. 45), but in Jalatlaco Naomi discovers many new flavors. She eats bu
ñ
uelos
, fried tortillas with a syrupy glaze sold by street vendors and crusty pan dulce, sweet breakfast bread.
Two holidays are celebrated during Naomi's visit to Oaxaca, Las Posadas and La Noche de la R
á
banos
, and both are integral to the plot. Mu
ñ
oz uses these festivals to not only showcase the culture of Oaxaca, but to illustrate the sense of community and family Naomi experiences during her visit. La Noche de la R
á
banos
is only celebrated in the central plaza of Oaxaca and this grounds the story in a very specific setting. The traditional customs of Las Posadas are described in vivid detail and Mu
ñ
oz provides explanation without becoming didactic or taking the reader out of the story.
4.
AWARDS/REVIEW EXCERPTS
ALA Notable Books for Children
Americas Award for Children's and Young Adult Literature nominee
Book Sense Book of the Year nominee
Children's Catalog 19th Edition
Starred review from KIRKUS REVIEWS: "Naomi's matter-of-fact narrative is suffused with her worries and hopes, along with her protective love for her brother and great-grandmother. Ryan's sure-handed storytelling and affection for her characters convey a clear sense of
Naomi's
triumph, as she becomes 'who I was meant to be.'"
Starred review from PUBLISHER'S WEEKLY: "Sharing her protagonist's love of language, artistic sensibility and keen sensitivity, Ryan creates a tender tale about family love and loyalty."
Review from SCHOOL LIBRARY JOURNAL: "Ryan has written a moving book about family dynamics. While she explores the youngsters' Mexican heritage and gives a vivid picture of life in and the art of Oaxaca, her story is universal, showing the strong bonds and love that make up an extended family. All of the characters are well drawn, and readers will share Naomi's fear until the judge makes the final decision about her future."
Review from THE BULLETIN OF THE CENTER FOR CHILDREN'S BOOKS: "Realistic danger from the monstrous Skyla, quick strategizing by Naomi and Gram, and the incomparable thrill of international travel on the lam provide a peppery vitality to this carefully crafted story, in which Naomi's expedition to find her father gives her a chance to grow into her name of Naomi the Lion."
*Have kids look carefully at the names of the chapters. Why do you think Mu
ñ
oz choose to name each chapter after a different grouping of animals? What does the title provide insight into the contents of the chapter? Why do you think Naomi finds collective animal groupings so interesting?
* Mu
ñ
oz provides a reader's theater script that covers the events of the first few chapters. After kids perform the script, encourage them to adapt another section of the book into a reader's theater script.
*Learn more about the holidays mentioned in the story, Las Posadas and La Noche de la R
á
banos.
Bring in photographs of the radish sculptures:
*Show this video that shows the radishes before and after carving. It also showcases some of the flower and corn husk sculptures:
*Carving is a major element in the book, so bring in soap for the kids to carve. Helpful resources include:
Suzauki, Howard K. 1999. SOAP CARVING: FOR CHILDREN OF ALL AGES. ISBN
978-0764308598
*Other middle grade books by Pam Ryan
Mu
ñ
oz:
Mu
ñ
oz, Pam Ryan. 1999. RIDING FREEDOM. Ill. Brian Selznick. ISBN
978-0439087964
Mu
ñ
oz, Pam Ryan. 2002. ESPERANZE RISING. ISBN
978-0439120425
Mu
ñ
oz, Pam Ryan.
2007. PAINT THE WIND. ISBN 978-0439873628
Mu
ñ
oz, Pam Ryan. 2010.
THE DREAMER. Ill. Peter Sis. ISBN 978-0439269988