Kamishibai Man by Allen S

ay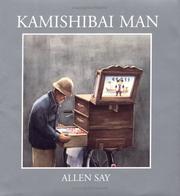 Say, Allen

. 200

5

. K

amishibai Man
Book Cover
.
From

http://openlibrary.org/works/OL103902W/Kamishibai_Man
Say, Allen. 2005. KAMISHIBAI MAN. Boston: Walter Lorraine Books, Houghton Mifflin Books. ISBN 978-0618479542
Not so long ago in Japan an old man and his wife, Jiichan (Grandpa) and Baachan (Grandma), lived a quiet life in the countryside. But one day Jiichan decides to take his bicycle into the city like he once did many years ago. He can't believe how much the city has changed and the noise that permeates the once quiet streets. He pulls into a vacant lot and sets up the Kamishibai box. Clack, clack! He hits together the wooden blocks and begins to tell the story of what it was like to be the beloved neighborhood kamishibai man. He remembers the children that flocked to him, buying sweets and listening to him tell Japanese folktales. But then TV came on the scene and the children were too busy to be interrupted by the kamishibai man. Soon after he stopped going on his rounds. But as Jiichan opens his eyes he realizes that the children who once listened to his stories have returned as grown ups! That night Jiichan asks his wife to make twice as many candies for tomorrow.
This is a bittersweet, nostalgic story that is related in an unhurried manner. The beginning of the book is slower, but the story picks up speed when Jiichan recalls the heydays of kamishibai. The book begins with descriptive narrative text written in third person past tense; however this changes when Jiichan tells the story of his past. Then the text is all dialogue spoken by the old man. The narrative resumes when Jiichan realizes he has had an audience for his story. The realistic illustrations match the tone of the story by becoming livelier and more stylized in the flashback scenes.
The book contrasts the tranquil rural landscape with the bustling city. These opposite settings emphasis the theme of old versus new, then versus now. Other themes in the book look at aging, progress, change, and the increased pace of life in modern day Japan as compared with slower bygone days.
Although there are children in the story, the old man's search for his purpose is the focal point. Jiichan and Baachan are quiet and introspective characters and Say draws parallels to the childless old couple in the Japanese folktale, "The Peach Boy." Compare the opening sentences of the book, "Not so long ago in Japan, in a small house on a hillside, there lived an old man and his wife. Even though they never had children of their own…" to the beginning of the folktale Jiichan tells the children, "Long, long ago, there once lived an old man and his wife who had no children…"
Sounds are often mentioned in the text. For example when Jiichan is happy he hums a tune his mother used to sing to him and he begins his kamishibai story with the "sharp, loud" sound of the wooden blocks ("

hyoushigi" in Japanese), "Clack, clack!"
The watercolor illustrations are full of vivid details that bring Japanese culture to life. Say presents both traditional as well as more contemporary images of Japan. For instance, the couple lives in a traditional Japanese house in the country. They wear traditional clothing in their house with the sliding wooden doors, but Jiichan wears contemporary clothes when he travels to the city. Jiichan's grown up audience wears a variety of clothing, from casual to formal, which highlights the wide range of personalities within the community. Say's illustrations feature children of all shapes and sizes with an assortment of hairstyles and personalities. In addition, Four Japanese folktales are mentioned in the text and scenes from those stories can be seen on the story cards in the illustrations.
Kamishibai means "paper theatre" or "paper play" in Japanese and this book is clearly Say's homage to the art form. Not only does the story tell the history of kamishibai, but the rectangular illustrations that accompany Jiichan's flashback are formatted much like kamishibai story cards. In the forward the author briefly outlines his childhood memories of kamishibai and his goal to be "your 'paper theater man' for a day." An afterward by Japanese folklore scholar, Tara McGowan, concludes the book. The afterward provides information on the creation and development of kamishibai over the years.
A To Zoo – 7th Edition
ALA Notable Book
Best Books for Children: Preschool-Grade 6 – 9th Edition

Review in KIRKUS REVIEWS: "Say effectively incorporates two illustration styles here—lovely soft watercolors and a more cartoonish style for flashbacks to the heyday of kamishibai. A fascinating window on a bygone art form."


Review in SCHOOL LIBRARY JOURNAL: "Say's distinctive style and facial expressions are especially touching...The power of the story and the importance of the storyteller are felt in this nostalgic piece that makes readers think about "progress." Those interested in storytelling and theater will be especially impressed with this offering, but it will have broad appeal.
"

Review in BOOKLIST: "The story-within-a-story that emerges reveals why this unique type of performance art has all but disappeared. The quietly dramatic, beautifully evocative tale contains a cliffhanger of its own, and its exquisite art, in the style of Kamishibai picture cards, will attract even the most jaded kid away from the TV to enjoy a good, good book."


Starred review in PUBLISHER'S WEEKLY: "Say's gift is to multiply themes without struggling under their weight. Aging, cultural change, the way humans seem to lose warmth with technological advances—he gestures toward all of these while keeping the lens tightly focused on the kamishibai man."


Review in BULLETIN OF THE CENTER FOR CHILDREN'S BOOKS: "The watercolors shift from their usual rich realism to a more stylized approach, seemingly echoing the pictures traditionally displayed for kamishibai, when slipping into flashback, which cleverly gives a greater taste of the tradition while indicating the time difference."
CONNECTIONS
*Read some of the Japanese folktales featured in the book:
Goodman, Robert B. & Spicer, Robert A. 1994. ISSUNBOSHI. Ill. George Suyeoka. ISBN 978-0896102781
Higgins, Nadia. 2012. ISSUN BOSHI (ONE-INCH BOY): A JAPANESE FOLKTALE. Ill. J. T. Morrow. ISBN 978-1609731397
Sakade, Florence. 2008. PEACH BOY AND OTHER JAPANESE STORIES. Ill. Yoshisuke Kurosaki. ISBN 978-4805309964
Suyeoka, George. 1972. MOMOTARO: PEACH BOY. ISBN 978-0834830042
*Use the following discussion questions after reading a version of THE LITTLE INCH BOY and THE PEACH BOY.
-How is the boy who cannot afford to buy candy like the little inch boy?
-THE KAMISHIBAI MAN begins very much like the folktale, "The Peach Boy." How are Jiichan and Baachan like the couple in the folktale?
*Have kids create their own kamishibai stories, which can be as short as three cards or as long as sixteen cards. This can be done alone or in groups of two or three. Choose to make cards for a Japanese folktale, a familiar folktale, or on a subject the group has been studying recently. Have kids write the text of their story of the back of the cards. Encourage kids to perform their stories for their peers. This promotes oral fluency. Teacher and librarian Julie Rosenoff provides an example of an assignment sheet, as well as helpful tips on planning and creating your kamishibai cards: http://www.cvsd.org/progress/documents/PDF_files/kamishibai.pdf
*Other picture books by Allen Say:
Say, Allen. 1982. THE BICYCLE MAN. ISBN 978-0685057049
Say, Allen. 1993. GRANDFATHER'S JOURNEY. ISBN 978-0395570357
Say, Allen. 1996. EMMA'S RUG. ISBN 978-0395742945
Say, Allen. 1999. TEA WITH MILK. ISBN 978-0395904954
Say, Allen. 2003. THE SIGN PAINTER. ISBN 978-0395979747
Say, Allen. 2010. THE BOY IN THE GARDEN. ISBN 978-0547214108
The Year of the Dog by Grace Lin
Lin, Grace

. 200

6

.
The Ye

ar of the Dog
Book Cover
.

Book cover designed by
Sano Fujii

. From http://openlibrary.org/works/OL1913874W/The_year_of_the_dog
Lin, Grace. 2006. THE YEAR OF THE DOG. New York: Little, Brown and Company. ISBN 978-0316060004
Young Chinese/Taiwanese-American, Pacy is excited to usher in a new year on Chinese New Year: The Year of the Dog. Her family tells her it's a good year to "find yourself," but Pacy is nervous; what if she can't find herself in time? Luckily for Pacy, a lot can happen in just one year. She makes a new best friend, learns more about Chinese/Taiwanese-American culture, makes her stage debut in the school play, enters the science fair, and writes and illustrates her first book. When Chinese New Year arrives Pacy decides that the Year of the Dog had been a great year.
This semi-autobiographical book covers one year in Pacy's life and is divided into twenty-nine very short chapters. Many of the chapters contain stories about Pacy's relatives told by Pacy's mother. These stories are also short and are printed in italtics. Lin's simple and cheerful black and white illustrations are used as chapter headings and also incorporated into the text. The illustrations are presented as though Pacy has drawn them and they depict important people and things in her life, from the electric rice cooker to pictures of her friends. Illustrations and text have a humorous undertone that keeps even serious subjects from slowing the momentum of the story.
Through the episodic chapters Pacy not only discovers her talent, writing and illustrating books, but she also discovers her wonderful, if contradictory, Chinese/Taiwanese-American culture. Lin addresses Pacy's dual cultures in a way that insider children will identify with and outsider children will understand. For instance, after being teased for being a "Twinkie" Pacy complains to her mother, "It's not fair. To Americans, I'm too Chinese, and to Chinese people, I'm too American. So which one am I supposed to be?" (p. 105).
Pacy's struggle to understand her culture is emphasized by the lack of other Asian-Americans in the all-White upstate New York community. Pacy, known as Grace at school, is the only Asian-American in her class until Melody Ling, who is also Chinese-American arrives and the two quickly become best friends. This is illustrated when Pacy's good friend Becky tells her matter-of-factly that she cannot play Dorothy in the school play of The Wizard of Oz because Dorothy is not Chinese. Pacy is shocked, "Suddenly, the world went silent. Like a melting icicle, my dream of being Dorothy fell and shattered on the ground. I felt like a dirty puddle after the rain…Becky was right. Dorothy wasn't Chinese. I was SO dumb" (p. 70).
Chinese-American holidays and traditions, as well as the foods eaten at these times, are the most prevalent cultural markers. The importance of food in Chinese/Taiwanese-American culture is emphasized. For instance, when Pacy visits her family for her cousin Albert's Red Egg Party she is confused because people keep asking her, "Ja-ba, bei?" Pacy knows this means "Have you eaten yet?" in Taiwanese, but she can't understand why they ask her this while she's eating. Finally, her mother explains that it's also a saying that means, "How are you doing?" and Uncle Leo says, "It's because food is so important to us…Everything is about food" (p. 40-42).
Lin confronts Chinese-American stereotypes throughout the story. For instance, when Pacy is trying to decide on a topic for her book she visits the library to see if there are any Chinese people in the books. The only book she finds is The Five Chinese Brothers by Claire Hutchet Bishop. She looks at the pictures and says to Melody, "Those aren't real Chinese people, though…Your brother doesn't have a ponytail" (p. 71).
Although the story focuses on an Asian-American family Pacy's worries are universal and include being different from her classmates, whether a boy likes her or not, and stage fright. Other themes in this book include friendship, family, and taking pride in your cultural heritage. These topics are handled in a realistic manner with lots of humor and love.
The book concludes with an author's note that includes information on the autobiographical aspects of the story. Lin notes that her favorite books growing up were about "normal families without unicorns or fairy princesses." She saw her life friends and neighborhood reflected in those books, but no Chinese-Americans, so she wrote this book to fill that gap.
Best Books For Children: Preschool-Grade 6 – 9th Edition
Booklist Editors Choice 2006
Bulletin Of The Center For Children's Books-Recommended Titles

Review in PUBLISHER'S WEEKLY: "Lin creates an endearing protagonist, realistically dealing with universal emotions and situations…The book's inviting design suggests a journal, and features childlike spot illustrations and a typeface with a hand-lettered quality. Girls everywhere, but especially those in the Asian-American community, will find much to embrace here."

Review in BOOKLIST: "Most of the chapters are bolstered by anecdotes from Grace's parents, which connect Grace (and the reader) to her Taiwanese heritage. Lin does a remarkable job capturing the soul and the spirit of books like those of Hayward or Maud Hart Lovelace, reimagining them through the lens of her own story, and transforming their special qualities into something new for today's young readers."

Review in KIRKUS REVIEWS: "Elementary school readers will enjoy the familiar details of school life and the less familiar but deliciously described Chinese holiday meals…This comfortable first-person story will be a treat for Asian-American girls looking to see themselves in their reading, but also for any reader who enjoys stories of friendship and family life."

Review in HORN BOOK: "With a light touch, Lin offers both authentic Taiwanese-American and universal childhood experiences, told from a genuine child perspective. The story, interwoven with several family anecdotes, is entertaining and often illuminating. Appealing, childlike decorative line drawings add a delightful flavor to a gentle tale full of humor."
*Readers may notice that the book Pacy writes in THE YEAR OF THE DOG is based on a picture book by Lin. Read the picture book and discuss different types of vegetables eaten in different countries. Bring in photographs of these vegetables or if possible bring in the real foods for the kids to taste.
Lin, Grace. 2001. THE UGLY VEGETABLES. ISBN 978-0606226288
*Picture books written and/or illustrated by Grace Lin that celebrate Chinese-American culture:
Lin, Grace. 2001. DIM SUM FOR EVERYONE! ISBN 978-0375810824
Tucker, Kathy. 2003. THE SEVEN CHINESE SISTERS. ISBN 978-0807573105
Lin, Grace. 2004. KITE FLYING. ISBN 9780756947897
Lin, Grace. 2006. FORTUNE COOKIE FORTUNES. ISBN 978-0756977672
Lin, Grace. 2008. BRINGING IN THE NEW YEAR. ISBN 978-0375937453
Lin, Grace. 2010. THANKING THE MOON: CELEBRATING THE MID-AUTUMN MOON FESTIVAL. ISBN 978-0375961014
*Other middle grade books by Grace Lin:
Lin, Grace. 2009. WHERE THE MOUNTAIN MEETS THE MOON. ISBN 978-0316114271
Lin, Grace. 2012. STARRY RIVER OF THE SKY. ISBN 978-0316125956
*More books about Pacy and her family:
Lin, Grace. 2009. THE YEAR OF THE RAT. ISBN 978-0316033619
Lin, Grace. 2012. DUMPLING DAYS. ISBN 978-0316125901
Millicent Min, Girl Gen

ius

by Lisa Yee
Ye

e, Lisa

. 200

3

. Millicent Min, Girl Genius Book Cover.

Jacket Photograph by Gary Spector

.

Book cover designed by

Elizabeth B. Parisi

. From http://www.lisayee.com/millicent-min-girl-genius.html
Yee, Lisa. 2003. MILLICENT MIN, GIRL GENIUS. New York: Arthur A. Levine Books, An Imprint of Scholastic Press. ISBN 0439425190
Eleven-year-old Millicent Min takes pride in being a genius, even if other people call her an overachiever and a compulsive perfectionist. Unfortunately, Millie's genius doesn't extend to social skills, which is why she does everything she can to hold on to her first ever best friend, Emily Ebers, even if that means keeping her genius status a secret. Millie struggles to balance taking her first community college class, tutoring "Stupid Stanford Wong" through his summer school remedial English course, and the mysterious illness her mother has suddenly developed. What happens when Emily discovers Millie's secret? Should Millie listen to her beloved grandmother, Maddie? Is it sometimes better to be liked than it is to be right?
The book focuses on the theme of friendship. Millie may be an intellectual genius, but she lacks social skills and struggles to interact with her peers, as well as adults. For instance, Millie truly believes that Debbie, a community college student, who is using Millie to do her homework, is her friend. Millie is stunned when Debbie tells her, "Listen, I'm very fond of you, but you're just a child. You can't really expect us to be in the same social circle, can you?" (p. 36). Other themes in the book include the value of honesty and wanting to belong.
The Min family is Chinese-American, with an emphasis on American. The family eats American food, does not celebrate Chinese holidays (at least during the course of the summer), and no one in the family, not even Maddie, Millie's grandmother, speaks Chinese. Maddie reads tea leaves and wants to practice feng shui, however, it seems like she is removed from her Chinese heritage. For instance, Millie calls Maddie by her first name instead of the more respectful and traditional American "Grandma" or the Chinese equivalent, "Ma Ma" (Cantonese) or "Nai Nai" (Mandarin).
Millie stands out, not because of her cultural heritage, but because of her intellect. Although Millie thinks she is extremely mature and cannot wait to grow up, she worries about the things most eleven-year-olds do, her friends and family. Cultural markers are infrequent and vague. The biggest clue to Millie's Chinese-American culture is in her last name, not in the way she views or interacts with the world.
The book is set in the suburbs of southern California. The geographic culture of volleyball practice, hanging out at the mall food court, and studying at the library is more integral to the story than Millie's Asian-American heritage. There are numerous pop culture references, which gives the book a contemporary feel.
The text is written from Millie's perspective and as the story progresses her voice can be grating at times. Millie's a know-it-all and it is difficult at times to connect with her overly logical, holier-than-thou attitude. For instance, Millie likes the smell of the linens at Emily's house and she makes a note to ask Emily's mom what kind of detergent she uses so that Millie can suggest it to her mom. Millie extols her own virtues saying to herself, "I'm always giving people suggestions on how to improve things. I like to be helpful" (p. 76). Her friends, Emily and Stanford, are much more likable and it is their presence that keeps the book lively and entertaining.
Unfortunately, the conclusion of the book is unsurprising. Even young readers will easily predict that keeping a secret from her best friend will get Millie into trouble, but that some soul-searching and heart-felt apologies will get the friendship back on track.
Best Books For Children: Preschool-Grade 6 – 8th & 9th Editions

Review in BULLETIN OF THE CENTER FOR CHILDREN'S BOOKS: "The depictions of Millicent's affectionate parents and her loving and eccentric grandmother refreshingly reject stereotypes of both Asian-American families and showboating relatives of gifted children. The "genius" notion may hook readers, but it's the sympathetic depiction of universal trials that will keep them reading."
Review in SCHOOL LIBRARY JOURNAL: "While some readers will have trouble identifying with Millie, her trials and tribulations result in a story that is both funny and heartwarming. A universal truth conveyed is that honesty and acceptance of oneself and of others requires a maturity measured not by IQ but by generosity of spirit."
Review in PUBLISHER'S WEEKLY: "Millicent's unique personality—a blend of rationality and naïveté—makes for some hilarious moments as the young protagonist interacts with a cast of colorful characters including her athletic, down-to-earth mother, her laid-back father, and her beloved grandmother, who borrows sage advice from the television show, Kung Fu. Yee re-examines the terms "smart" and "dumb," while offering a heartfelt story full of wit."

Review in BOOKLIST: "Millie's pretentious voice grows tiresome after a while, but Yee does an excellent job of showing both Millie's grown-up brain and her decidedly middle-school problems. Even if they can't relate to her mastery of Latin, most kids will readily follow as Millie struggles through a world where she's smarter than everyone but still sometimes clueless."
*After reading the book ask kids what they thought Millie learned over the summer. Did she learn more from books or from people? Invite kids to write about an experience where they learned something from a friend.
*Other middle grade novels about girls who take pride in their intellect:
L'Engle, Madeleine. 1962. A WRINKLE IN TIME. ISBN 978-0312367541
Kelly, Jacqueline. 2011. THE EVOLUTION OF CALPURNIA TATE. ISBN 978-0312659301
Konigsburg, E. L. 1998. THE VIEW FROM SATURDAY. ISBN 978-0689817212
*Companion books to MILLICENT MIN, GIRL GENIUS:
Yee, Lisa. 2005. STANFORD WONG FLUNKS BIG-TIME. ISBN 978-0439622479
Yee, Lisa. 2007. SO TOTALLY EMILY EBERS. ISBN 978-0439838481
Yee, Lisa. 2011. WARP SPEED. ISBN 978-0545154000
*Other books by Lisa Yee:
Yee, Lisa. 2009. ABSOLUTELY MAYBE. ISBN 978-0439838450