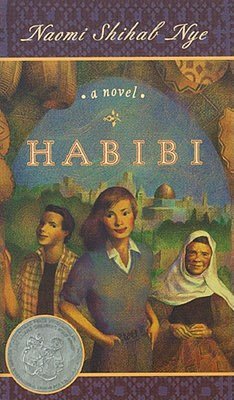 Nye, Naomi Shihab. 1997. Habibi Cover. Jacket art by Raul Colon. Image from:http://www.barnesandnoble.com/w/habibi-naomi-shihab-nye/1100363857
Nye, Naomi Shihab. 1997. HABIBI. New York: Simon Pulse, an imprint of Simon & Schuster. ISBN 0-689801491
The year Liyana Abboud turns fourteen her parents decide to move the family across the ocean from St. Louis to Palestine/Israel, where her Arabic father, Poppy, was born and raised. Liyana's brother, Rafik is excited, but Liyana's not so sure. She'll be leaving the only place she's ever lived in, all of her friends, and the first boy to kiss her. Poppy transfers to a hospital in Jerusalem and the family rents a house between the ancient city and the town of Ramallah where Liyana's grandmother, Sitti, and countless uncles, aunts, and cousins live. Although there are many things Liyana likes in her new country—the interesting people she meets, the grey Arabic notebooks just right for sticking in your pocket, delicious foods like katayef—she struggles to learn Arabic and to understand the cultural expectations set by society for teenage girls.

Then she meets charismatic and intelligent Omer and all of her doubts about her new country fade. But Omer is Jewish and the two find their friendship forbidden by years of animosity and hate between the Arabs and the Jews. Will Liyana's family ever accept her budding romance with Omer? Will this new country ever feel like home?
The book begins with portions of two poems and a quotation from Anndee Hochman that address the passage of time, the meaning of home, and the intertwined nature of Israel and Palestine. These poems not only prepare the reader for the themes of the story, but also echo Nye's unique, poetic style of writing.
The book reads like a series of chronological essays with each one contributing to Liyana's growing understanding of her family, her identity, her hopes, and her culture. This is illustrated by the subtitle of the last chapter, "Doors: There was a door in the heart / that had no lock on it" (p. 268).
Liyana is a budding writer and spends most of her free time observing and writing. For example, she keeps a running list of first lines for stories or poems or movies. This interest allows Nye to explore words and their meanings to their fullest extent. Liyana is not content with the surface meaning of a word, a phrase, or a person. She stubbornly delves deeper, which leads her to more questions and curiosities. Through Liyana's eyes Nye is able to include many cultural markers including the preparation and eating of food, bustling market places, school life, and several major landmarks, such as the Dead Sea.
Liyana is becoming a woman and is confronted with cultural markers in the differences in gender roles, clothing, and behaviors between her male and female relatives. Liyana struggles to accept societal and cultural norms in her new country, especially those that restrict her from doing things she could do in St. Louis because she is female. Liyana had her first kiss before leaving America, so she can't understand why boys and girls in Jerusalem aren't allowed to kiss when family and friends kissed each other constantly on the cheeks. Poppy replies that public kissing "is not okay here. It is simply not done. Anyway, it is not supposed to be done." Liyana fires back, "Not by anyone?...Not by Greeks or Jews or Armenians, or only not by Arabs?" (p. 61).
Nye examines the fragile relationship between Arabs and Jews from an outsider's point of view. Although her father is Arabic, Liyana thinks of herself as "the half-American with the Arab eyes in the navy blue Armenian school uniform" (p. 84). Although a mostly Arabic perspective is presented, Nye uses Omer to bring a Jewish point of view into the story. Through Liyana's story Nye advocates for peace, but she does not paint a rosy picture of the current relationship between the two peoples. She acknowledges that there is pain and resentment of many years on both sides. For instance, Susan, Liyana's mother, urges her children to think of families fighting at dinner tables. Family members fight because they care, "with strangers you don't care so much." Rafik agrees, "if you didn't love someone why would you even bother to fight with him?" And so Liyana wonders, "Do you think the Arabs and Jews secretly love one another?" and Poppy replies, "I think…they are bonded for life. Whether they like it or not" (p. 73). However, although Nye wishes for a more peaceful future, violence and hate are a part of this story, such as the ransacking of Sitti's house and the short, but terrifying imprisonment of Liyana's father.
Even though Nye tackles big issues, including hate, faith, and peace, Liyana's voice remains hopeful. The Abboud's are a humorous family and they often choose to see the amusing side of a situation. For instance, the headmaster at Liyana's new school, a priest wearing a burgundy robes and a giant pointed hat, informs her that she cannot wear her ring because it is considered a distraction. Later, Liyana comments to Poppy, "Distraction? If I were wearing a giant cosmic cone on my head, would I have room to talk?" (p. 78).
Nye deftly navigates the multilingual aspects of living in Israel. The story is written from Liyana's perspective, who struggles to learn Arabic and has very little knowledge of Hebrew, however, all non-English words are printed in italics and explained within the text. The most notable term is the title, which Liyana explores and defines in a chapter subtitled, "Darling: a dearly loved person, / a favorite, a charmer" (p. 213). The number of languages spoken in the city is used to emphasize the unwillingness of Arabs and Jews to communicate, no matter how many languages they speak.
Liyana struggles to accept her new home because she loved her old home so much, but gradually she comes to understand that "every day is a new map. But it's just a scrap of it, an inch" (p. 266). She realizes that moving to Jerusalem is not the beginning or end of her story, but the middle. The conclusion of Nye's book is open-ended, yet satisfying. Liyana accepts her new home into her heart, the good and the bad, and although she knows that peace between the Arabs and Jews will not come easily, it is not impossible. And so the book ends on a hopeful note.
4.
AWARDS/REVIEW EXCERPTS
ALA Notable Books for Children
Jane Addams Children's Book Award
Judy Lopez Memorial Award (Women's National Book Association, L.A. Chapter)
New York Public Library Book for the Teen Age
Texas Institute of Letters Best Book for Young Readers
Review in PUBLISHER'S WEEKLY: "
Nye's climactic ending will leave readers pondering, long after the last page is turned, why Arabs, Jews, Greeks and Armenians can no longer live in harmony the way they once did."
Review from SCHOOL LIBRARY JOURNAL: "Though the story begins at a leisurely pace, readers will be engaged by the characters, the romance, and the foreshadowed danger. Poetically imaged and leavened with humor, the story renders layered and complex history understandable through character and incident. Habibi succeeds in making the hope for peace compellingly personal and concrete...as long as individual citizens like Liyana's grandmother Sitti can say, 'I never lost my peace inside.'"
Review in BOOKLIST: "
The story is steeped in detail about the place and cultures: food, geography, history, shopping, schools, languages, religions, etc. Just when you think it is obtrusive to have essays and journal entries thrust into the story, you get caught up in the ideas and the direct simplicity with which Nye speaks. She does try to cover too much--no book can tell the whole story of the Middle East--but this is a story that makes us 'look both ways.'"
*The chapters have poetic subheadings. Have each teen pick one and write about why they chose it, how it related to the content of the chapter, and if it relates to their own life.
*Other books that address the relationship between Arabs and Jews in Israel:
Abulhawa, Susan. 2010. MORNINGS IN JENIN. ISBN 978-1608190461
Barakat, Ibtisam. 2007. TASTING THE SKY: A PALESTINIAN CHILDHOOD. ISBN 978-0374357337
Carmi, Daniella. 2002. SAMIR AND YONATAN. ISBN 978-0439135238
Laird, Elizabeth. 2006. A LITTLE PIECE OF GROUND. ISBN 978-1931859387
Levine, Anna. 1999. RUNNING ON EGGS. ISBN 978-0812628753
*Books of poetry for children and teens by Nye:
Nye, Naomi Shihab. 2001. WHAT HAVE YOU LOST? ISBN 978-0380733071
Nye, Naomi Shihab. 2005. 19 VARIETIES OF GAZELLE: POEMS OF THE MIDDLE EAST. ISBN 978-0060504045
Nye, Naomi Shihab. 2005. A MAZE ME: POEMS FOR GIRLS. Ill. Terre Maher. ISBN 978-0060581893
*Essays and short stories by Nye:
Nye, Naomi Shihab. 1996. NEVER IN A HURRY: ESSAYS ON PEOPLE AND PLACES. ISBN 978-1570030826
Nye, Naomi Shihab. 2007. I'LL ASK YOU THREE TIMES, ARE YOU OK?: TALES OF DRIVING AND BEING DRIVEN. ISBN 978-0060853921
Nye, Naomi Shihab. 2011. THERE IS NO LONG DISTANCE NOW: VERY SHORT STORIES. ISBN 978-0062019653