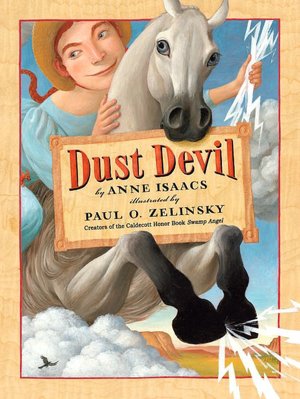 Zelinsky, P.O. Dust Devil. 2010. From http://www.barnesandnoble.com/w/dust-devil-anne-isaacs/1100291078?ean=9780375867224&itm=2&usri=dust+devil
BIBLIOGRAPHY
Isaacs, Anne. 2010. DUST DEVIL. Ill. Paul O. Zelinsky. New York: Schwartz and Wade Books. ISBN: 978037596722
PLOT SUMMARY
This rip roaring tall tale is the continuing story of Angelica Longrider, first started in the Caldecott Honor Book, SWAMP ANGEL. Now a resident of Montana, larger-than-life Angel befriends her neighbors and sets about taming the Wild West. She tames a dust storm that turns out to be a gigantic horse she names Dust Devil. Their tussle creates the Grand Canyon. Angel and Dust Devil go on to chase an evil band of terrorizing robbers, Backward Bart and his Flying Desperadoes across the whole of Montana, thus creating the Sawtooth Range.
CRITICAL ANALYSIS
This original tall tale, full of exaggerated plot points and larger-than-life characters, also includes elements of a pour quoi tale. Frequently the events of the story are said to create particular geographical land markers, such as the Grand Canyon and the buttes of Montana. Taming the Wild West is the theme of this good versus evil story, which leads to a rewarding resolution. Although some characters in the story question Angel's ability to do things based on her gender, Angel is not a woman to take no for an answer. She is a strong female protagonist, cut from the same cloth as her male counterparts such as Paul Bunyan and Pecos Bill.
The story has an episodic plot; however the episodes are sequential with characters accumulating from the first to the last. Although some children may have difficulty sitting still for the book to be read all at once, the episodic nature of the story allows it to be easily broken up into smaller chunks. The text is a joy to read aloud and is filled with wordplay, such as reverse speaking Backward Bart, and humorous hyperbolic phrases, "They were pricklier than porcupines in a cactus patch."
The illustrations depict culturally and regionally accurate scenery, although this is a tall tale, so size, distance, and time are often exaggerated. The Montana setting is very specific and wonderfully depicted through the American primitive style illustrations. Zelinsky uses wood grain borders to frame the illustrations as well as to give variety to the layout.
Although this book is the sequel to the Caldecott honor book, SWAMP ANGEL, it can be read as a stand alone book as well.
AWARDS/REVIEW EXCERPTS
West Virginia Children's Choice Book Award Nominee
School Library Journal Best Books of the Year Award Winner
New York Times – Children's Notable Book, 2010
Review from THE SCHOOL LIBRARY JOURNAL: "Zelinsky has a heyday masterfully illustrating the high jinks with his meticulous oil paintings on cedar, aspen, and maple veneers, all of which are elegantly encased by a thin red border. Using softly glowing tones, he brands his own version of a Western folk style to flawlessly render the big-sky setting."
Starred review from BOOKLIST: "Once again, Isaacs' story and Zelinsky's oil-paint-on-wood artwork create a laugh-out-loud tall tale with folksy phrasing and slapstick exaggeration…A few pourqoui elements wrap up this handsomely designed, thoroughly entertaining stand-alone sequel."
Starred review from LIBRARY MEDIA CONNECTION: "Dust Devil is a perfect example of the highly exaggerated style of tall tales, and the illustrations enhance the story…"
Review from KIRKUS REVIEWS: "Artfully crude, comedic artwork, friendly, understated narration and a wildly hyperbolic story combine to create a new classic."
CONNECTIONS
*Talk about the exaggerated elements in the story, Backward Bart's extreme ugliness, Angel's size, and the toughness of Aunt Essie Bell's biscuits.
*Talk like Backwards Bart. Reverse all the words of a familiar song. See if you can say the alphabet backwards.
*The many characters and colorful dialogue make this a wonderful reader's theatre candidate. Have one class or group present SWAMP ANGEL and the other follow up with DUST DEVIL.
*Create a Tall Tales Hall of Fame by drawing pictures of Angelica Longrider and other characters from tall tales on large poster board. Have the kids pick out the highlights of each characters adventures and post those along with information such as birth place, parents, siblings, sidekick, etc.
*Other tall tales to read:
Kellogg, Steven. 1994. PAUL BUNYAN. ISBN 9780060887056
Kellogg, Steven. 1995. PECOS BILL. ISBN 978-0-7848-1131-3
Kellogg, Steven. 1995. SALLY ANN THUNDER ANN WHIRLWIND CROCKETT. ISBN 9780688140427
Mora, Pat. 2005. DONA FLOR: A TALL TALE ABOUT A GIANT WOMAN WITH A GREAT BIG HEART. Ill. by Raúl Colón.
Nolen, Jerdine. 2003. THUNDER ROSE. Ill. by Kadir Nelson. ISBN 9780152164720
San Souci, Robert D. 2000. CUT FROM THE SAME CLOTH: AMERICAN WOMEN OF MYTH, LEGEND, AND TALL TALE. Ill. Brian Pinkney. ISBN 9780698118119