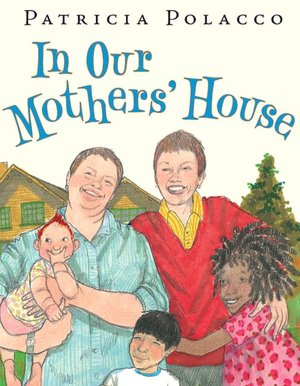 Polacco, Patricia. 2009. In Our Mothers' House Cover. Jacket art by Patricia Polacco. Image from: http://www.barnesandnoble.com/w/in-our-mothers-house-patricia-polacco/1100032219?ean=9780399250767
Polacco, Patricia. 2009. IN OUR MOTHERS' HOUSE. New York: Philomel Books. ISBN 978-0399250767
Narrated by their oldest child, a lanky African-American girl with springy black curls, this book celebrates the joy and love of a family composed of two mothers and three adopted children. Short and stout, Meema was a pediatrician and tall and thin Marmee, who could organize and fix anything, was a paramedic. The narrator's younger Asian-American brother, Will, and artistic red-haired, bespectacled Millie completed the family. The children grow up in a beautiful old house in Berkeley, California and the narrator lovingly describes her memories of cooking in the kitchen, dressing up for Halloween, making dresses for the mother-daughter tea, and the annual neighborhood block party. Although the family was attacked for their lifestyle by their neighbor Mrs. Lockner, the children were always comforted by the love of their mothers. Eventually the children grow up, get married, and have children of their own. Although Marmee and Meema have passed away, the narrator is reassured because "all of our hearts find peace whenever we are there…not only remembering them, but being there, together, in our mothers' house."
The positive aspects of being part of a family with two mothers are emphasized in this story. Sometimes it seems too good to be true. The story is a nostalgic look at the narrator's childhood and family, so it is somewhat understandable that Polacco chooses to highlight positive, rather than negative, memories. Although the story is elevated by characters that are not stereotypical or one dimensional, at times the realism of the book suffers under the pressure of representing an idealized family.
The story, a tribute to two loving parents who just happen to be lesbians, is written almost entirely in first person past tense, which makes the reader feel like one of the family. The pen and marker illustrations are bright and lively. The people and settings are realistic and detailed, yet Polacco's lines are loose and sketchy. Each two page spread describes a memory of something that happened in or around the house. Together these episodes create a tapestry that illustrates the Marmee and Meema's love of their children and their community.
Although Mrs. Lockner's attack on the family provides a small conflict the book is character and place, rather than plot driven. Polacco mentions that the house is located in Berkeley, California, however the city is not as important as the house itself. This universal story of love and family could easily take place in any city. There is a contemporary timelessness to the illustrations; the story could be set in the 1970's or the 2000's. The neighborhood is very diverse with people of many cultural backgrounds. This is most noticeable in the illustration of the block party food court which features people of all ages, hair and skin colors. Meema says, "Aren't we all something?" when she sees the stuffed grape leaves brought by the Maricians, the Polos' spanakopita, and the hummus and tabouli brought by the Abdullas.
The communal sharing of food is a recurring element in the narrator's memories. The children not only cook and eat food with their mothers, but also with their grandparents, uncles, aunts, cousins, friends, and neighbors. The narrator remembers, "At our table we didn't only eat, thought. Marmee and Meema made sure of that. Everyone talked about everything…What I loved most about our family was that we could all speak our hearts. We never measured words"
Polacco has developed distinct, complimentary personalities for Marmee and Meema. The narrator describes them as "so different from each other that all of us often wondered how they found each other at all." The narrator lovingly describes the careers and passions of each woman. Their sexual orientation is never addressed directly, although it is clear the two women are in a relationship. Although some readers may wish for a more direct approach, the benefit of Polacco's approach is that each adult can discuss the topic in the way they are most comfortable.
Both mothers are open about their relationship to their children, parents, and the community. They take pride in the accomplishments of their children and are willing to step outside of their personal comfort zones to support their children. For instance, both daughters are ecstatic when they are picked to host the mother-daughter tea. Although Meema and Marmee never wear dresses, they enthusiastically sew long pastel dresses to wear to the event. In retrospect the narrator acknowledges how uncomfortable her mothers were and how much it meant to her and her sister, "My heart still skips a beat when I think of the two of them trying so hard to please us in those awkward, sweeping, ridiculous dresses."
Unfortunately, prejudice is embodied by a single character, Mrs. Lockner, which does not present a realistic depiction of the barriers same-sex couples face. This also seems like a wasted opportunity for Polacco to address other forms of hate that children with same-sex parents often encounter, such as bullying by their peers. However, adopted children and/or children with same-sex parents will see themselves positively reflected in this book.
Best Books for Children: Preschool-Grade 6 – 9th Edition

Review in SCHOOL LIBRARY JOURNAL: "Is this an idealized vision of a how a gay couple can be accepted by their family and community? Absolutely. But the story serves as a model of inclusiveness for children who have same-sex parents, as well as for children who may have questions about a "different" family in their neighborhood. A lovely book that can help youngsters better understand their world."

Starred review in BOOKLIST: "The energetic illustrations in pencil and marker, though perhaps not as well-rendered as in some previous works, teem with family activities and neighborhood festivity. Quieter moments radiate the love the mothers feel for their children and for each other."

Review in KIRKUS REVIEWS: "The distillation of hate into a single character undermines the reality of systematic oppression faced by same-sex couples; furthermore, the flash-forward narration depicting each child grown and married into heterosexual, monoracial unions ironically presents this family as an anomaly. There is a desperate need for books that present queer families as just another part of the American quilt, but this title, despite its obvious good intentions, doesn't do it."
*What would your house say, "If walls could talk"? Encourage kids to write about an unforgettable experience that happened in the house they live in now or in the house they loved the most.
*Other books by Patricia Polacco:
Polacco, Patricia. 1993. SOME BIRTHDAY! ISBN 978-0671871703
Polacco, Patricia. 1994. PINK AND SAY. ISBN 978-0399226717
Polacco, Patricia. 1998. ROTTEN REDHEADED OLDER BROTHER. ISBN 978-0689820366
Polacco, Patricia. 2008. EMMA KATE. ISBN 978-0142411964
Polacco, Patricia. 2012. THANK YOU, MR. FALKER. ISBN 978-0399257629
*Other books about adopted children:
Cummings, Mary. 2006. THREE NAMES OF ME. Ill. Lin Wang. ISBN 978-0807579039
Lewis, Rose A. 2000. I LOVE YOU LIKE CRAZY CAKES. Ill. Jane Dyer. ISBN 978-0316525381
Lewis, Rose A. 2004. EVERY YEAR ON YOUR BIRTHDAY. Ill. Jane Dyer. ISBN 978-0316525527
Rosenberg, Liz. 1999. WE WANTED YOU. Ill. Peter Catalanotto. ISBN 978-0761326618
Say, Allen. 2004. ALLISON. ISBN 978-0618495375
*Other books about children with same sex parents:
Garden, Nancy. 2004. MOLLY'S FAMILY. Ill. Sharon Wooding. ISBN 978-0374350024
Newman, Leslea. 2011. DONOVAN'S BIG DAY. Ill.

Mike Dutton. ISBN 978-1582463322
Oelschlager, Vanita.

2010. A TALE OF TWO DADDIES. Ill. Kristin Blackwood. ISBN 978-0981971452
Oelschlager, Vanita. 2011. A TALE OF TWO MOMMIES. Ill. Mike Blanc. ISBN 978-0982636664
Setterington, Ken. 2004. MOM AND MUM ARE GETTING MARRIED. Ill. Alice Priestley. ISBN 978-1896764849