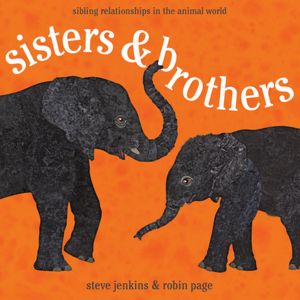 Jenkins, S. & Page, R. Sisters and Brothers: Sibling Relationships in the Animal World Jacket Cover. 2008.

BIBLIOGRAPHY
Jenkins, Steve & Robin Page. 2008. SISTERS AND BROTHERS: SIBLING RELATIONSHIPS IN THE ANIMAL WORLD. Boston: Houghton Mifflin. ISBN 9780618375967
PLOT SUMMARY
In this large and attractive survey book, children are introduced to sibling relationships in the animal world. Some animals are born singly, like the African elephant that is taken care of by an older sister, while others are born at the same time as their brothers and sisters, such as nine-banded armadillos who are always born in identical quadruplets. Each page features a different animal and includes a short paragraph filled with fascinating information. The intricate paper collage illustrations are striking and the organization of the book allows kids to flip through the book in any order they wish. This is a wonderful book to entice children to explore the animal world, as well as a great addition to an animal-lover's bookshelf.
CRITICAL ANALYSIS
The sibling relationship concept utilized in this beautifully illustrated book is especially interesting for preschool through second grade kids. This book is a great introduction to studying beyond a child's own neighborhood and experiences because information is presented in a context that kids already know and understand. Even only-children are exposed to other children who have siblings.
The book uses short text to introduce interesting facts without bogging the reader down with specific numbers or statistics. The book does not include a glossary, however, terms that kids may be unfamiliar with, such as echolocation, are explained within the text and pronunciation is provided for lesser known animals, such as the great crested grebe and the cichlid.
Jenkins and Page's choice to cite specific animals insures that information is accurate and specific rather than generalized. Details are related to common objects, which helps to give young readers an idea of size and shape in terms they can easily understand. For instance, instead of writing that termites build mounds up to a certain number of feet tall, Jenkins and Page tell the reader that termite structures can be as tall as a four-story building.
The organization of the book is simple with a minimum of access features. A short introduction does a good job of letting the reader know what to expect from the book and to check the back of the book for more information on each animal. The back of the book also includes an additional reading list. Although the book lacks a table of contents or an index, this book does not need to be read in order, nor does it have enough information to be used for a school project/paper on a specific animal. Therefore, readers will most likely browse through this book and access information visually via the illustrations rather than from a table of contents or index. However, the book does use small category headers on each page that are helpful when browsing for specific information, such as "Sisters," "Twins," and "Cooperating."
The cut paper collages are gorgeous and give the book a special touch. They are more intimate than photographs, yet Jenkins and Page do not resort to anthropomorphism or cute tricks. The accurately portrayed animals are illustrated proportionately and in true-to-life colors.
Overall, this book is well-organized and supported with accurate and compelling information. The only disappointing element are the tag lines incorporated into each illustration. Lines such as, "Isn't it your turn to be the pigeon?" and "I'm having my family for dinner" don't tell the reader anything more about the animal nor do they entice the reader into the text.
AWARDS/REVIEW EXCERPT(S)
AAAS/SB&F Prize for Excellence in Science Books
Beehive Children's Informational Book Award Nominee
Review from SCHOOL LIBRARY JOURNAL: "Enough data is afforded to satisfy many children, and adults are offered some further readings to suggest to the insatiably curious. Eye-catching, and with an interesting approach to the animal world, this book should appeal to a wide variety of ages and interests."
Starred Review in BOOKLIST: "The sibling focus is a way to include a wealth of fascinating science, which is expanded in the detailed back matter that presents more facts about each animal. Children older as well as younger than the target audience will want to thumb through this fascinating picture book."
CONNECTIONS
*Compare the number of siblings for each animal in the book. Make a graph chart.
*Talk about the different types of animals included in the book. Ask the kids questions such as, which animals in the book are mammals? Which animals have their babies from eggs?
*This book discusses sibling relationships. Take a look at another specific kind of relationship in the animal world: symbiosis.
Aruego, Jose & Ariane Dewey. 2002. WEIRD FRIENDS: UNLIKELY ALLIES IN THE ANIMAL KINGDOM. ISBN 9780152021283
Page, Robin & Steve Jenkins. 2010. HOW TO CLEAN A HIPPOTOTAMUS: A LOOK AT UNUSUAL ANIMAL PARTNERSHIPS. Ill. by Steve Jenkins. ISBN 9780547245157
Rhodes, Mary Jo & David Hall. 2006. PARTNERS IN THE SEA. ISBN 9780516254920